Congo News Agency | Published on November 12, 2011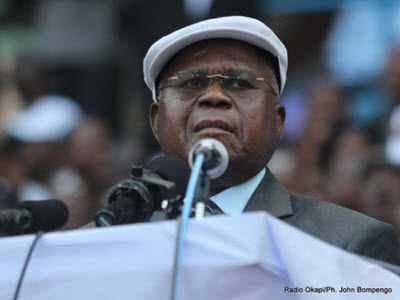 Etienne Tshisekedi at a rally in Kinshasa on August 9, 2011 |
Enlarge
Still embroiled in a controversy over inflammatory statements he made during an interview on Sunday, Etienne Tshisekedi made new threats of violence during a speech in Kisangani on Friday, telling his supporters to rise up and attack the police if they feel they are being mistreated.
The calls to violence, made three weeks before presidential and parliamentary elections set to take place on Nov. 28, have surprised many Congolese who have admired Mr. Tshisekedi for his non-violent fight for democracy for nearly three decades.
They have also brought back memories of sometimes unpredictable behavior by the veteran opposition leader, who boycotted the first democratic elections held in the Democratic Republic of Congo in 2006, claiming they would be rigged.
Many Congolese still remember one particular episode in 1991, when Mr. Tshisekedi crossed over the mention "Mobutu Sese Seko, President of the Republic" while signing the papers naming him as Prime Minister at an oath ceremony attended by his old-time nemesis. After refusing to resign the papers, he was dismissed a few days later and criticized by other opponents to then President Mobutu's regime for what they saw as a missed opportunity to govern over a minor detail.
Because of his occasionally eccentric behavior, some have questioned whether Mr. Tshisekedi is capable of leading the country or more comfortable as a "perennial opponent", who always seems to shoot himself in the foot just as he gets closer to power.
Government spokesman Lambert Mende tried to remind voters of these episodes of "erratic" actions and statements on Monday by questioning Mr. Tshisekedi's sanity.
Although some hardcore members of the UDPS may heed these calls to violence, most opposition supporters are more likely to question, once again, Mr. Tshisekedi's motives and tactics.
So far, the incendiary statements he made on Sunday seem to have fallen on deaf ears. Mr. Tshisekedi's ultimatum to the government to release members of the UDPS by Tuesday or risk attacks on jails has come and passed without supporters following his dangerous advice.
Many voters are questioning the new tactics, especially after opposition parties failed to unite against President Joseph Kabila ahead of the elections, and with some pointing to Mr. Tshisekedi's "stubbornness" and failure to compromise with other leading opposition parties as the main reasons.