UN News Centre | Published on May 26, 2014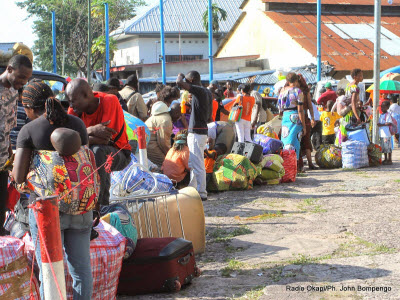 DR Congo citizens deported from Brazaville arrive in Kinshasa on 4.24.2014 |
Enlarge
Senior United Nations officials today demanded that Republic of the Congo immediately stop expelling citizens from the neighbouring Democratic Republic of the Congo, and called for an investigation into allegations of sexual violence and other human rights violations.
More than 130,000 DRC nationals have been expelled from Brazzaville, capital of Republic of the Congo, since early April, according to a statement from the UN Mission in the country, known by its French acronym MONUSCO.
"I heard numerous testimonies of victims of gross human rights abuses and cruel treatments," said Martin Kobler, head of MONUSCO and Special Representative of the Secretary-General in the DRC.
He visited a transit camp on the outskirt of Kinshasa, the capital of DRC, where several thousands of expelled are currently gathered. Kinshasa and Brazzaville face each other across the Congo River.
"I heard stories of children drowning in the river during their forced crossing. I saw a man injured by bullets and mothers who had given birth alone on the shore of the Congo River," he added, urging that "all this has to stop".
Zainab Hawa Bangura, Special Representative of the Secretary-General on Sexual Violence in Conflict, joined Mr. Kobler's call: "We have received reports alleging that sexual violence is being committed before and during the expulsion exercise, and this is unacceptable."
Ms. Bangura and Mr. Kobler urge the two neighboring countries to ensure that administrative and security officials "act in full compliance with the principles of good neighborliness and preserve peace and international security in conformity with the UN Charter", according to the joint statement.
While the conditions for people to stay in a foreign country are part of the sovereign responsibility of the host country, deportations should be made in strict compliance with the principles and rules of the international law, they reminded the authorities.
"Mass expulsions are contrary to principles within the African Charter on Human and People's Rights and international law more broadly," Mr. Kobler said.