Human Rights Watch Details Summary Executions in DRC

VOA News | Published on December 12, 2008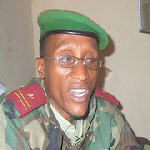 U.S.-based Human Rights Watch has described in chilling detail an attack last month in the eastern Democratic Republic of Congo in which about 150 people were killed not far from a U.N. peacekeeping base.

The human rights group says most of those killed in Kiwanja on November 4 and 5 were shot or hacked to death by ethnic Tutsi rebels after the rebels repulsed an attack by pro-government militia.

It says the rebels broke into homes and killed men and teenage boys during an operation against militia combatants and sympathizers.

The report calls the attack the worst killing spree in North Kivu province in two years.

A U.N. spokeswoman says the report unfairly minimizes the efforts of U.N. peacekeepers in the region to protect civilians. She said fewer than 150 peacekeepers are trying to protect 60,000 people in two adjacent towns in the area, often at great risk to themselves.

Human Rights Watch says the violence shows why the European Union should urgently send troops to help U.N. peacekeepers in the volatile eastern DRC.

The HRW report is based on more than 130 interviews with victims, witnesses, U.N. peacekeepers and rebel forces.

It was issued as talks involving a rebel delegation and Congolese government officials in Kenya appeared to have stalled.

U.N. mediator Olusegun Obasanjo says the rebels at the meetings do not have enough decision-making power.

Congolese rebels who renewed an offensive in late October say they are fighting to protect the area's Tutsi minority from Rwandan Hutu militia who entered the region after the 1994 Rwandan genocide.

Government officials in Rwanda are denying information in a draft U.N. report asserting that Rwandan authorities are backing the rebels. Congolese government officials are denying information in the same report that their army backs the Hutu extremists.