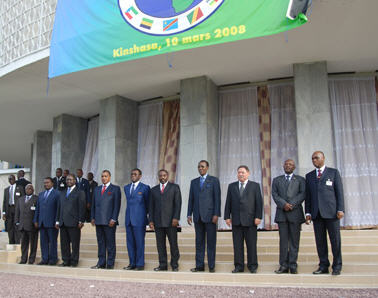 The Kenyan government has expressed confidence that talks aimed at ending conflict in the war-ravaged eastern part of the Democratic Republic of Congo (DR Congo) underway in Nairobi will be successful.
Kenyan Foreign Affairs Minister Moses Wetangula told journalists in Nairobi on Monday that he is hopeful a deal will soon be reached on the cessation of hostilities between the government and the major Tutsi rebel militia, the National Congress in Defense of the People (CNDP).
"Progress so far is encouraging. I am quite happy with the briefs I have received from former Nigerian President Olusegun Obasanjo who is mediating the talks," Wetangula told journalists in Nairobi.
The minister noted that the latest talks aimed at ending the on-going conflict in the eastern part of the Great Lakes region have discussed critical issues, noting that Kenya will continue to play a positive role towards the conflict's resolution.
"I'm sure that sooner than later, an agreement on cessation of hostilities between the government and the rebels will be signed very soon," he told a news conference.
The Nairobi talks between the government and the rebel CNDP began last month with the goal of ending the ongoing conflict, which has uprooted an estimated 250,000 people since late August, mainly in North Kivu province which borders Rwanda and Uganda.
The mediators have said that the latest talks have been focusing on security matters including a possible ceasefire since they resumed earlier last week in Nairobi.
"We have been going into details of elements of the security arrangements such as a ceasefire and cessation of hostilities agreements," said former Tanzanian president Benjamin Mkapa, co-mediator of the talks.
Wetangula told the parties over the weekend that plans were well under way for a summit on Jan. 31 to update leaders from Africa's Great Lakes region on the discussions.
The last round of talks in the Kenyan capital ended on Dec. 20 with the rebels refusing to sign a joint ceasefire.
The talks to end the four-year conflict resumed on Tuesday when the rebel group's top military commander openly challenged founder General Laurent Nkunda in an apparent power struggle.