Xinhua | Published on November 05, 2009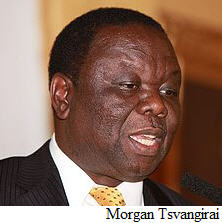 The SADC Troika on Politics, Defense and Security Cooperation will hold a summit in Maputo on Thursday, mainly to discuss the current crisis in Zimbabwe.
SADC Executive Secretary Tomas Salomao told the reporters in Maputo on Wednesday that the three major players in Zimbabwean politics, Prime Minister Morgan Tsvangirai, Deputy Prime Minister Arthud Mutambara, and President Robert Mugabe, will attend the meeting, AIM said.
All three members of the Troika, its current chairperson, Mozambican President Armando Guebuza, its past chair, Swazi King Mswati III, and the Troika deputy chair, Zambian President Rupiah Banda will also attend the summit.
Also expected at the summit are the current chairperson of SADC, Joseph Kabila, President of the Democratic Republic of Congo, and his predecessor, South African President Jacob Zuma. Former South African President Thabo Mbeki, who has played the role of SADC facilitator on Zimbabwe will also fly to Maputo.
The current crisis arises from Tsvangirais partial disengagement from government on Oct. 16.
Mugabe and Tsvangirai are literally in a war of words, heightening tension in a country that had hitherto been brimming with the hope that its economic woes were about to end.
While not totally disengaging from the government, Tsvangirai and his ministers have said that while they will continue to operate from their government offices, they will, however, not attend Cabinet and Council of Ministers meetings until all outstanding issues to the GPA have been concluded.
The larger MDC faction, led by Tsvangirai, objects in particular to Mugabe's unilateral re-appointment of Gideon Gono as chairperson of the central bank, and Johannes Tomana as Attorney-General.
Gono is accused as largely responsible for the destruction of the Zimbabwean currency, and for the hyper-inflation it suffered before it switched to the use of foreign currencies, while Tomana is accused of harassing opposition and human rights activists.
Other issues at stake include the appointment of provisional governors, and the recent re-arrest, on trumped up treason charges, of the MDC treasurer Roy Bennett, who is also the MDC nominee for the post of Deputy Agriculture Minister.
Salomao said he was sure that the summit would help pull Zimbabwe out of its latest crisis.
"Judging by the high level of commitment from the political actors," said Salomao, "we are confident in the success of the negotiations in order to implement effectively the government of national unity in Zimbabwe."
Salomao said the summit will also discuss the latest developments in Lesotho and in Madagascar.