Xinhua | Published on November 06, 2009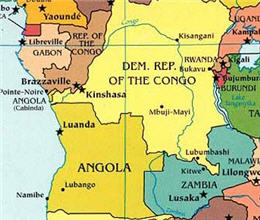 The Democratic republic of Congo (DRC) and its southern neighbor Zambia are holding a commission meeting to discuss all-round cooperation, according to the Congolese News Agency.
The 11th session of the joint commission was opened on Thursday in the DRC capital Kinshasa with an agenda to include the evaluation of agreements and existing projects in political, judicial, diplomatic, defense and security, economic-finance, commerce and industry fields.
On Thursday, the experts examined trade, technical and economic cooperation between the two countries.
The Congolese experts recommended the activating of agreements not yet fulfilled as in defense and security resolutions reached at the fourth session of the commission.
The official opening of the joint DRC-Zambia commission was planned for Friday with the participation of ministers from both countries.