Southern African Ministers Prepare Report on Regional Crises

VOA News | Published on January 07, 2010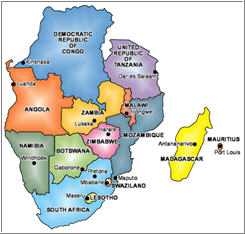 Southern African ministers are meeting in Mozambique to prepare for next month's summit of the African Union.  Madagascar,  Zimbabwe and Democratic Republic of Congo are major topics of discussion.

Foreign ministers of the Southern African Development Community met in Maputo to prepare a report on the region's political crises.  It is to be presented to African leaders at their upcoming summit in Ethiopia.

SADC's Political and Diplomatic Committee has been mediating three major crises in the region.

SADC officials said the ministers are pleased the various parties to the unity government in Zimbabwe resumed negotiations on implementing their power-sharing agreement.  They said they believed Zimbabwe was on the right path.

The officials said the ministers also believe that progress is being made toward easing the conflict in eastern Democratic Republic of Congo and that reconciliation efforts between the government and various rebel groups were on the right track.

But the officials said they were less optimistic about the political crisis in Madagascar.  It erupted in March after Andry Rajoelina, backed by the military, seized power following the ouster of then-President Marc Ravalomanana.

SADC and the African Union do not recognize the Rajoelina government and have suspended Madagascar from their organizations.

Negotiations mediated by SADC brought a power-sharing agreement last year between Rajoelina, Mr. Ravalomanana and two other former presidents.  But Rajoelina boycotted a meeting in December to distribute cabinet posts and withdrew from the accord.

He subsequently appointed a retired military officer as prime minister and said he would organize elections in March.

The opposition rejected the move and resumed its demonstrations in the capital.  The government says it will arrest anyone who provokes what it called, "further unrest."

Western nations have suspended most non-humanitarian aid to Madagascar, and the United States has canceled tax exemptions on Malagasy imports under the African Growth and Opportunity Act known as AGOA.

Madagascar Minister of Economy and Industry Richard Fienena has reacted to the cancellation saying it had caused the loss of many jobs.

He says the government will have to find a solution, in particular, for workers who will suffer the consequences of the break with AGOA.

The African Union says AU Commission Chairman Jean Ping is to visit Madagascar in two weeks to try to break the deadlock.  It made the announcement after a meeting Wednesday in Addis Ababa of the International Contact Group on Madagascar.

The group includes the African Union, the United Nations, the European Union, France, the Indian Ocean Commission, the International Francophone Organization, and the United States.