Xinhua | Published on November 18, 2009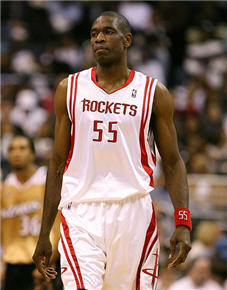 NBA Commissioner David Stern announced on Tuesday that Dikembe Mutombo will serve as the NBA global ambassador.
After retiring from a playing career that spanned 18 seasons, Mutombo will now work to grow and celebrate the game through numerous international NBA events including Basketball without Borders. In addition, he will work closely on NBA Cares outreach efforts with Hall of Famer Bob Lanier who serves as Special Assistant to the Commissioner.
"Dikembe's extraordinary accomplishments on the court and in the community demonstrate why he is one of sports' outstanding humanitarians," Stern said.
"His commitment to using the values of our game to improve the lives of so many is an example of the special role we have in being leaders in social responsibility."
Mutombo started the Dikembe Mutombo Foundation to improve living conditions in his native Democratic Republic of Congo in 1997.
His commitment to improving the health, education and quality of life for the people in his birthplace led to the construction and opening of the Biamba Marie Mutombo Hospital and Research Center, a 29 million dollars, 300-bed hospital in Kinshasa named after his late mother.
Regarded as one of the top post defenders of all time, Mutombo will also play an important role in the mentoring of current players. His on-the-court honors include four NBA Defensive Player of the Year awards through a career that also saw him named to eight All-Star Game appearances, and a place on three All-NBA teams and six All-Defensive teams.