Lauren Burgoon - Georgetown University News | Published on January 19, 2010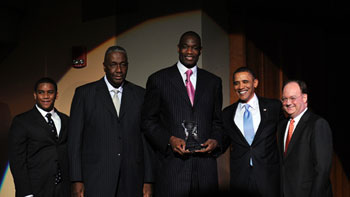 President Obama served as a surprise guest at the eighth annual "Let Freedom Ring!" event celebrating the life and legacy of the late Rev. Martin Luther King Jr. and honoring NBA great and philanthropist Dikembe Mutombo (I'91).

Obama entered the center's concert hall to deafening cheers and praised Mutombo for his efforts to bring health care and education to his native Democratic Republic of the Congo. Georgetown and the Kennedy Center for Performing Arts hosted the celebration.

The president said Mutombo is attacking poverty in Africa "with the same ferocity that he used to block shots in the NBA."

The philanthropist received the John Thompson Jr. Legacy of a Dream Award for embodying King's spirit and work through the Dikembe Mutombo Foundation.

"Our philosophy is to help people so they can help themselves," Mutombo said.

The humanitarian credited his father, who earned about $37 a month as a school superintendent, with instilling in him an appreciation for education.

Mutombo brought those lessons with him to Georgetown, where he found a mentor and friend in Thompson, Georgetown's former men's basketball coach between 1972 and1999.

Mutombo, who retired last year after 18 years of professional basketball, called winning an award named for Thompson the "equivalent of an NBA championship." He lauded his former head coach for pushing players to achieve beyond their expectations, especially off the basketball court.

"You never know what direction life will take you or what road you will travel," Mutombo said. "But your chances of success are certainly greater with an education than without one."

Georgetown President John J. DeGioia also commended Mutombo's work in the Congo, telling a capacity audience how the foundation's Biamba Marie Mutombo Hospital and Research Center, which opened in 2007, is the country's first new medical facility in almost 40 years.

"It is a testament to Dikembe's respect for the dignity of his sisters and brothers of Kinshasa [Congo]," DeGioia said. "Dikembe embodies the values we celebrate when we gather together on this day."

Ryan Wilson (C'12) introduced the Legacy of the Dream Award, saying he felt honored to be on stage with Obama, Mutombo, Thompson and DeGioia.

"I think the event was a tremendous opportunity for the Georgetown and D.C. communities to honor such important leaders," said Wilson, who hails from King's birthplace, Atlanta. "The added appearance by the president, roughly a year after his inauguration, made for a memorable night."

In celebrating his first Martin Luther King Jr. Day in office, Obama acknowledged that the nation still struggles to fully realize King's visions. He urged Americans to draw from the civil rights leader's example of unshakeable convictions.

"Despite the bitterness of the past, despite the difficulties of the present and despite the uncertainty of the future, Dr. King held fast to his dream," Obama said.