Congo Planet | Published on January 23, 2007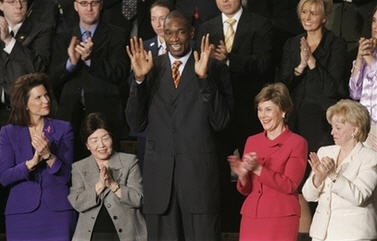 Dikembe Mutombo was among the guests of honor at the State of the Union Address. During his annual speech to the nation, President Bush saluted Dikembe Mutombo for building a new hospital in the Congo and never forgetting the land of his birth even after becoming a star in the NBA, and a citizen of the United States.
"Dikembe Mutombo grew up in Africa, amid great poverty and disease. He came to Georgetown University on a scholarship to study medicine -- but Coach John Thompson got a look at Dikembe and had a different idea. Dikembe became a star in the NBA, and a citizen of the United States. But he never forgot the land of his birth -- or the duty to share his blessings with others. He has built a brand new hospital in his hometown. A friend has said of this good hearted man: "Mutombo believes that God has given him this opportunity to do great things." And we are proud to call this son of the Congo our fellow American.", Bush said.
Dikembe Mutombo sat next to First Lady Laura Bush, and Lynn Cheney, the wife of Vice-president Dick Cheney.
After the introduction by President Bush, he stood up to a standing ovation by those attending the event which included the members of the cabinet, the Supreme Court, senators, congressmen, and other invited guests.
The State of the Union Address is an annual event in which the President of the United States reports on the status of the country, normally to a joint session of the U.S. Congress (the House of Representatives and the Senate). The address is also used to outline the President's legislative proposals for the upcoming year. It has occurred in January (except for six occasions in February) since 1934.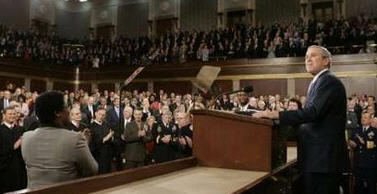 Read full text of speech