VOA News | Published on August 17, 2009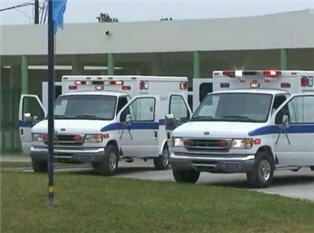 During her trip to Africa last week, U.S. Secretary of State Hillary Clinton visited a $30-million private hospital established by Congolese basketball star Dikembe Mutombo. The former athlete has turned his attention to the issue of health care, one of Africa's most pressing problems.


Boys in dried-grass skirts welcomed Secretary Clinton to Kinshasa's Biamba Marie Mutombo Hospital. The 300-bed research center and hospital opened in the capital's Masina neighborhood two years ago focusing on maternal and child health with a 70-bed Women's Health Center.

Secretary Clinton visited the pediatric wing accompanied by founder Dikembe Mutombo. She told university students after the visit that Mutombo's commitment to public service stands as an example for the Democratic Republic of Congo and for Africa.

"This continent and this country have seen humanity at its worst, but you have also seen it at its best," she said. "You see it in the many acts of kindness between people who help each other even though they themselves have so little. You see it in a man who did so well in America, but decided to build a hospital that treats 100 patients a day and has created hundreds of jobs in the country he calls home."

One of the university students asked Mutombo why he used his money to build a hospital instead of going into politics.

"Everybody wants to do politics. But who is going to do business? Who is going to take care of the health care? Who is going to do work in the social system? Right now in Congo, 73 percent of the population in Congo is under the age of 24-years-old. Including all of you guys in this room," said Mutombo.


Mutombo said the poor quality of health care is the biggest challenge facing Africa, especially for the continent's next generation of leaders.

"If we don't provide good health care for you, how are you going to work? How are you going to practice politics, whatever you want to do? So that is why I went and built a hospital. But the most reason is was because of my mom, who died here in Kinshasa because she could not reach the hospital," added Mutombo.

Mutombo's parents lived eight minutes from a hospital in the capital, but because of a 1998 curfew in Kinshasa, his mother died before she could receive treatment.

"So that kind of pushed me a little bit to realize that a hospital would be a wise choice, that if I can do this, there is a chance for me to save thousands and thousands of lives, and to give Congolese people, which is my people where I came from, a hope," continued Mutombo.

Mutombo played 18 seasons in the U.S. National Basketball Association. The 2.18-meter center was the league's top defensive player four times and was an eight-time All-Star before retiring this year with a knee injury in the first round of the playoffs.

Before his basketball career began at Georgetown University in Washington, D.C., Mutombo was a pre-medical student and worked as an intern at both the World Bank and the U.S. Congress. He eventually graduated with degrees in linguistics and diplomacy, but never forget his first dream of becoming a doctor.

That led to this hospital and his concern for a generation of Congolese who he fears are losing hope in the future of their country.

"You are losing hope and you are thinking that there is nobody who is thinking about you," said Mutomobo. "If there is nobody who is thinking about you, what have I been doing coming every year in this country?"

Secretary Clinton met Mutombo's mother at the White House in 1994. Standing in the hospital dedicated to her memory, Clinton told Mutombo that his mother would have been proud of this tribute to the values with which he was raised.

The hospital has an emergency room, three surgical suites, 12 intensive care beds and comprehensive laboratory and radiology services. It not only focuses on maternal and child health but also addresses diabetes, cancer, HIV/AIDS, malaria, and tuberculosis.