BBC News | Published on August 10, 2009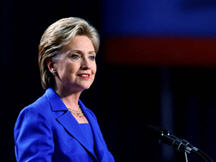 US Secretary of State Hillary Clinton has arrived in the Democratic Republic of Congo, where she will speak out on the country's deadly civil conflict.
Mrs Clinton is expected to call for an end to rights abuses, including mass rapes reportedly carried out by rebels and government troops.
Violence flared in the country's mineral-rich east last year, raising fears of a return to civil war.
Mrs Clinton, on a seven-nation tour of Africa, was in Angola earlier.
She promised US oil firms would give greater help to Angola's other sectors, such as agriculture.
She also held 45 minutes of talks with President Jose Eduardo Dos Santos, and told reporters afterwards that he had committed to a "timely" presidential election - which would be the country's first since 1992.
Basketball philanthropy
On her arrival in the Congolese capital, Kinshasa, Mrs Clinton is set to visit a newly-built hospital.
The BBC's East Africa correspondent Will Ross says the modern facility is in stark contrast to the rest of the country's dilapidated health system.
But the hospital was not built by the government - its construction was paid for by Dikembe Mutombo, a Congolese basketball star who made his name in the US.
On Tuesday Mrs Clinton will meet President Joseph Kabila in the eastern town of Goma, where the focus will be on ending human rights atrocities including mass rape.
Our correspondent says the US and the rest of the international community realise that if stability can be brought to DR Congo it could have a positive impact on a vast swathe of Africa.
The country borders eight other nations, and its conflicts have frequently spilled over its borders.
The US is a major aid donor and has helped the country in some of its recent successes like the elections of 2006 and the thawing of relations with Rwanda.
Mrs Clinton has already visited South Africa and Kenya as part of the trip - her longest foreign tour since taking office.
She is also due to visit Nigeria, Liberia and Cape Verde.