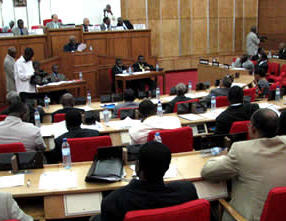 Prime Minister Adolphe Muzito announced on Thursday he was withdrawing the decrees he had signed conferring the status of town and municipalities to some parts of the country. He said he would instead establish a technical committee to propose changes.
The head of the government was responding to an inquiry by Senator Patrice Aimé Sessanga, who had questioned the constitutionality of the decrees.
Concerning the creation of new provinces, Adolphe Muzito said the government has faced a lot of constraints, which have delayed the creation of new provinces by May 15 of this year, as required by the Constitution.
"The government is suspected of having deliberately delayed the creation of new provinces. This goal has not yet been reached because the government has had to deal with a lot of obstacles", he said.
But Senator Sessanga believes the creation of new provinces does not require billions of dollars, as suggested by the Prime Minister. He says it is rather a question of lack of political will.
"When it comes to the creation of new provinces, the reality is that you are not actually creating new provinces. You are putting in place new provincial political institutions, which means, putting in place a provincial Assembly that chooses its leaders and elects a governor, who then chooses his team", Senator Sessanga said.

On the web: Congo News Agency | From Radio Okapi Article