Congo News Agency | Published on November 26, 2011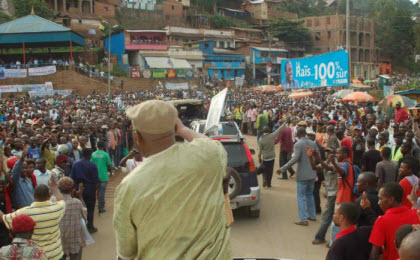 Tshisekedi rallies supporters on Kabila's turf in Bukavu, South Kivu Province |
Enlarge
The leading candidates in Monday's presidential election are set to hold dueling rallies in Kinshasa on Saturday, the last day of the campaign.
President Kabila will rally supporters at Stade des Martyrs, while Etienne Tshisekedi has announced a rally in the capital upon his arrival at Ndjili airport. Vital Kamerhe will also hold a final rally at Stade Tata Raphael.
The rallies will mark the end of a month in a campaign that saw the candidates court voters in eastern Congo before moving westward during the last week of the campaign.
President Kabila, in power since 2001, will try to convince voters in the capital, an opposition stronghold, that he remains the best bet to lead the country for the next five years. A mainstay of his campaign has been asking voters for more time to continue the major infrastructure projects he started during the current term.
Mr. Tshisekedi, playing on a much friendlier turf in Kinshasa, will continue to remind supporters of Mr. Kabila's failure to fight against rampant corruption, human rights violations, tackle poverty, and bring a lasting peace and security to the country.
Both Mr. Tshisekedi and Mr. Kabila have received warm welcomes in provinces considered favorable to their opponent, both in eastern and western Congo.
Mr. Tshisekedi managed to draw huge crowds in eastern provinces such as North and South Kivu, Katanga and Orientale Province, that overwhelmingly voted for Mr. Kabila during the 2006 presidential elections.
Mr. Kabila received a warm welcome from supporters in the Kasai Provinces, considered strongholds of Mr. Tshisekedi, and Bas-Congo and Equateur Provinces, considered opposition strongholds.
Monday's presidential election may hinge upon how much the two candidates were able to make inroads in each other's strongholds during the campaign.
Another important factor will be how much the main opposition candidates – Etienne Tshisekedi, Vital Kamerhe and Kengo wa Dondo – split the votes of the opposition.
Despite the failure of the main opposition parties to unite against President Kabila, Mr. Tshisekedi said during the campaign that the Congolese people will know who to vote for, even if they are faced with several candidates.
President Kabila, running unopposed from the ruling majority, is counting on his allies from the PALU party, including Prime Minister Adolphe Muzito and patriarch Antoine Gizenga, to convince enough voters in Bandudu and Bas-Congo provinces that their interests will be better served by giving the ruling majority another term in office.
President Kabila will be crossing his fingers and hoping that Mr. Kamerhe, a former ally who led his campaign in 2006, does not chip away enough votes from him in the South and North Kivu Provinces.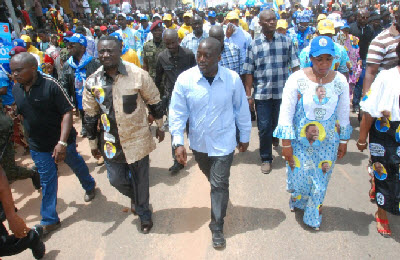 Joseph and Olive Lembe Kabila campaign on Tshisekedi's turf in Mbuji Mayi, Kasai-Oriental Province | Enlarge