Congo News Agency | Published on April 19, 2012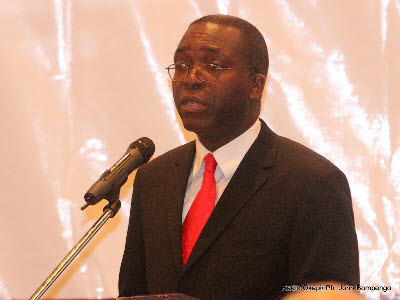 Matata Ponyo during a speech in Kinshasa on March 8, 2011 |
Enlarge
President Joseph Kabila named former finance minister Matata Ponyo as the new prime minister on Wednesday.
He replaces Adolphe Muzito, who resigned on March 6 in a procedural move to allow President Kabila to name a new government after the Nov. 28 presidential and parliamentary elections.
Mr. Ponyo became finance minister in February 2010.  He had previously worked as an associate professor of Economics at the University of Kinshasa. He has published several articles on hyperinflation, government deficits and the role of monetary institutions.
Known as a technocrat, he oversaw a 7 percent economic growth in the Democratic Republic of Congo in 2010 and a $12.3 billion debt cancellation. The World Bank said last week it expects the same growth rate in DR Congo for the next two years.
Mr. Ponyo is a member of President Kabila's People's Party for Reconstruction and Democracy (PPRD). The prime minister's post has been held by the PALU party since 2007, an ally of the PPRD.
Following the controversy surrounding the Nov. 28 elections, there had been speculation that President Kabila might include members of the opposition in the new government.
Former Defense Minister Charles Mwando Simba was tasked by President Kabila to hold talks with political parties in March. After the talks, he rejected the idea that the prime minister's post itself might be given to the opposition.
Mr. Ponyo, 47, survived the Feb. 12 plane crash that killed President Kabila's senior advisor Katumba Mwanke along with four other passengers. He was hospitalized in South Africa for two weeks before resuming his functions as finance minister.