ACP | Published on October 06, 2011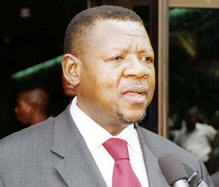 Lambert Mende
The Minister of Communication and Media, Lambert Mende, said on Wednesday that the government will ensure peace and security during the upcoming elections.
"We recognize that there are people with negative intentions who want to bring us onto the path of violence. We have the political will to respond. We have all the resources we need to ensure peaceful elections," Mr. Mende told reporters during a press conference in Kinshasa.
"Anyone who attacks state property, the symbols of the state, or private property located anywhere in the Congo will be brought to justice," he said.
The government spokesman admitted that there is a risk that the elections might not proceed as planned. "We have incorporated this risk in our planning," he said.
He added that the government has brought down the level of insecurity in eastern Congo and announced that thousands of police officers are being trained in Kinshasa and Katanga to secure the elections.

On the web: Congo News Agency | Source: ACP article