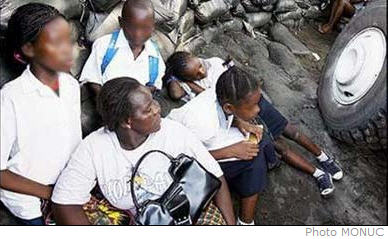 During the confrontations of November 11, 2006, in front of the residence of vice-president J.P. Bemba, the Uruguayan corporal Correa of MONUC, showed courage and devotion while saving the life of a woman and her four children.

At first, one would believe that one Uruguayan blue helmet is like the others; with his skin tanned by the sun, his stiff black hair falling under his beret and a mug of "mate" to cope with the long hours under the sun. But Corporal Ubendan Correa is different.

33 years old, married and father of three children, he is participating in his third peace keeping mission since 1994. He belongs to the DELTA Company of the URUBAT-IV battalion of the Western Brigade of MONUC.

That morning, supporters of J.P. Bemba had come to demonstrate their support in front of his residence on the Boulevard of June 30 in the centre of Kinshasa. When the police intervened to disperse them, violence erupted between them, leading to the tragic deaths of four people, three by stray bullets.

Corporal Ubendan Correa was one of the troops sent by MONUC to secure the vice-president's residence. When the shooting began, the Corporal was able to rescue a woman and her four scared children who were paralysed with fear in the middle of the Boulevard.

"I didn't think, I ran and I got to the other side of the Boulevard. When I reached the woman I realized that she was in state of shock and she wasn't able to move. I took her and gave her a shelter behind our site protected by sandbags and I returned to look for her four children," the Corporal explained.

"It is our duty to protect civilians. I didn't hesitate for a moment and I did not receive an official order to leave my station. Fortunately my superior, Lieutenant Garcia, understood my actions," he added.

Courageous acts by the blue helmets are not rare in DR Congo, such as Corporal Correa's in Kinshasa or in Ituri, in North-Kivu and everywhere where the UN peacekeepers are deployed to protect civilians and to accompany the political transition in peace and tolerance.
Translated by Birgit Gorbach