Congo News Agency | Published on July 15, 2012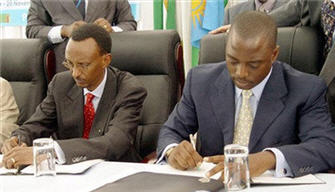 Rwanda's President Paul Kagame and DR Congo's President Joseph Kabila (file photo)
DR Congo's President Joseph Kabila and Rwanda's President Paul Kagame have endorsed a pact seeking the creation of a new military force comprised of soldiers from "neutral" countries to fight and "eradicate" the armed groups operating in eastern Congo, including the M23 rebels led by warlord
Bosco Ntaganda
and the Rwandan rebels of the
FDLR
.
The two presidents met for an hour on Sunday behind closed doors on the sidelines of the 19th session of the African Union Summit in Addis-Ababa, in Ethiopia.
The pact was signed in Addis-Ababa on Thursday by foreign affairs ministers and defense ministers from the member states of the International Conference on the Great Lakes Region (ICGLR). It calls for the "ICGLR to work with the AU and the UN on an immediate establishment of a neutral International Force to eradicate the M23, FDLR and all other Negative Forces in Eastern DRC and patrol and secure the Border Zones."
Outgoing AU commission chairman Jean Ping told leaders at the opening of the summit that the organization was ready to contribute to such a force in eastern Congo. Leaders at the summit elected South Africa's Nkosazana Dlamini-Zuma as the new AU chair on Sunday.
The Congolese government, rights groups and a United Nations Group of Experts report have accused Rwandan authorities of supplying men, ammunitions and weapons to the M23 rebels led by Bosco Ntaganda, who is wanted by the International Criminal Court on war crimes charges.
Rwandan authorities have come under increased pressure from foreign partners, including the United States, to stop supporting the M23 rebels.
The signing of the pact may have sealed the fate of warlord Bosco Ntaganda. In 2009, Congolese and Rwandan authorities struck a deal that led to the arrest of warlord Laurent Nkunda, who was later replaced by his then deputy, Bosco Ntaganda, as commander-in-chief of the rebel CNDP.
This time around, Rwanda cannot afford to just put Ntaganda "under house arrest" as it did with Nkunda. Unlike Ntaganda, Nkunda has inexplicably never been charged by the ICC for the numerous war crimes committed by the CNDP.  It is however unlikely that Ntaganda will ever be handed over to the ICC. He knows too much. It is more likely that the man nicknamed "The Terminator" by his victims will sooner or later be terminated himself by his backers.