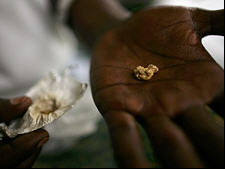 Eight foreigners - from the US, France and Nigeria - have been arrested on allegations of gold smuggling in eastern Democratic Republic of Congo, officials say.
"Millions of dollars" and 436kg of gold were seized, the local governor said.
DR Congo is rich in minerals, such as gold, tin and coltan used to make mobile phones, but many mines are controlled by armed groups.
Last year, the government banned mining in eastern regions.
Eastern DR Congo has been ravaged by conflict for at least 15 years, with both the army and rebel groups accused of using the fighting as cover to exploit the area's mineral wealth.
North Kivu governor Julien Paluku said four of those arrested - two Nigerians, one US citizen and one from France - had flown to the regional capital, Goma, from Nigeria in order to buy gold.
The crew of three US citizens and one Nigerian were also in detention, he said.
Their US-registered plane has been impounded.
A UN source told the BBC's Thomas Hubert in the capital, Kinshasa, that its flight plan was for a return trip from the Nigerian capital, Abuja, and added that the same aircraft had performed the same flight in the past two weeks.
"This could be one of the networks which fuelled the war in the east," Mr Paluku told the AFP news agency.
"If a rebel leader is given money in exchange for gold, he will never leave the bush," he said.