Radio Okapi | Published on January 12, 2019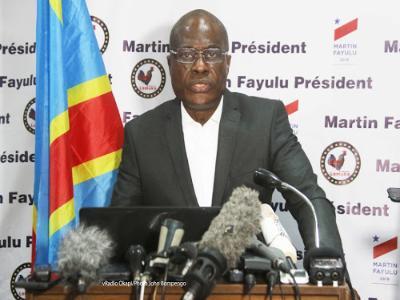 Martin Faylu filed an appeal to the Constitutional Court on Friday, contesting the provisional results of the presidential election published two days earlier by the Independent National Electoral Commission (INEC).
The INEC said that Mr. Fayulu was the runner-up with 35.2% of the votes, while fellow opposition leader Felix Tshisekedi won with 38.57%.
"I will not abandon the people. The people can not accept special arrangements negating its will. The people went to vote and elected citizens to be provincial deputies, national deputies and the President of the Republic", Mr. Fayulu said on Saturday.
The Lamuka Coalition candidate said that he refuses that someone "cooks up [election] results in order to allow the return of Mr. Kabila to power tomorrow."
"They call me the soldier of the people, the guardian of the temple, and I will not abandon that people. We will go to the end to recover its victory," Mr. Fayulu said.
According to Article 75 of the Electoral Law, the courts competent to hear contentious elections issues are the Constitutional Court for presidential and legislative elections, the Administrative Court of Appeal for provincial elections, the Administrative Tribunal for the municipal and local elections.
The Constitutional Court has seven days to examine appeals of the presidential election. If the appeals are declared inadmissible or unfounded by the respective court, depending on the case, the court would then proclaim the final results of the elections.