Radio Okapi | Published on August 04, 2018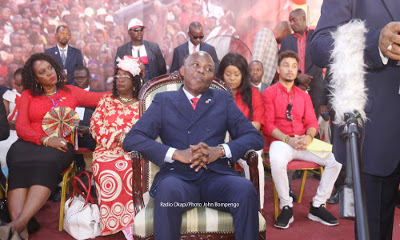 Vital Kamerhe during the second congress of the UNC in Kinshasa on 8.2.2018 |
Enlarge
Vital Kamerhe has been named as the candidate of the Union for the Congolese Nation (UNC) for the December 23 presidential election. This was one of the resolutions taken during the second congress of the opposition party that ended Saturday, August 4 in Kinshasa.
The candidacy of Vital Kamerhe is motivated by the desire to get the Congolese out of the "poverty and misery in which they find themselves, while the country is full of unexploited human and natural resources."
The UNC also mentions the government's inability to deal with "widespread insecurity in the DRC. "
Vital Kamerhe's party said it has an "ambitious agenda for a strong, prosperous and stable DR Congo in the heart of Africa."
Another resolution renamed Vital Kamerhe as the head of the UNC for a new term of 5 years.