Radio Okapi | Published on October 26, 2013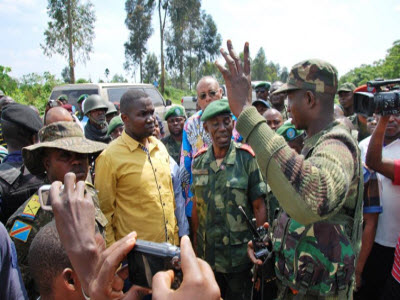 The commander of DR Congo's army operations in North Kivu province, Colonel Mamadou Ndala, briefs North Kivu province Governor Julien Paluku in Kibumba |
Enlarge
DR Congo's army has recaptured the town of Kibumba, located 27 kilometers north of Goma, in North Kivu province.
The spokesman of the Congolese Armed Forces in the province, Col. Olivier Hamuli, announced Saturday afternoon that the army, known as FARDC, had taken control of the town.
Col. Hamuli said that some rebels were still trying to oppose a "little resistance" on the hill of Helu, on the border with Rwanda. He called on the M23 rebels to disarm.
Visiting Kibumba on Saturday, North Kivu province Governor Julien Paluku said he was pleased to see that "our armed forces are behaving very well."
He said that the M23 rebels tried to open another front towards Kahunga. "Fortunately, our armed forces are now advancing," he added.
Governor Paluku said that DR Congo's army command has insisted that all areas still under the control of the rebels must return into the hands of the regular forces.
He said he hoped that Kiwanja and Rutshuru will also pass under the control of the Congolese army so that the road between Goma and Rutshuru can be reopened.
"That way we can begin to observe life gradually return, we can begin to see a return of the internally displaced people to their areas of origin as I have just observed in Kanyaruchinya," he said.
The fighting between the FARDC and the M23 resumed early Friday morning in Kibumba. These are the most violent clashes since last August. The fighting is taking place while talks between the Congolese government and the rebels in Kampala, Uganda, have been suspended.
In a joint statement issued on Saturday, the Special Envoy of the Secretary General of the United Nations in the Great Lakes Region, Mary Robinson, and the Special Representative of the UN Secretary General in DR Congo, Martin Kobler, called on all parties to observe maximum restraint and to resume negotiations.
"The negotiating parties have an incentive to immediately find an agreement on the outstanding issues in Kampala," they said.
Bertrand Bisimwa, the political leader of the M23, said that "the government must understand that only the talks in Kampala will bring peace."
In a message to the AFP news agency on Friday, Congolese government spokesman Lambert Mende rejected any suggestion of warmongering: "Everyone knows who sabotaged the talks [...] it is the M23, which is serving a foreign country that relies on the destabilization of the DRC to lay hands on its resources."
In their discussions, the two sides have particularly disagreed on the issue of amnesty for rebels and their reintegration into the army. The Congolese government rejects granting amnesty to the perpetrators of war crimes and crimes against humanity but says it is ready to treat each application on a case-by-case basis.