Anne Look/VOA News | Published on April 13, 2015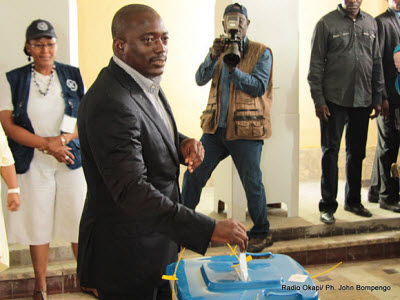 Protesters accuse President Joseph Kabila, seen here voting during the 2011 presidential elections, of trying to change the constitution so he can run for a thrid term |
Enlarge
West African civil society and human rights groups said the Democratic Republic of Congo (DRC) has kept at least eight pro-democracy activists in secret detention for almost a month. The groups told reporters in Dakar Monday that the Congolese activists must either be formally charged before a judge or immediately released.
Several dozen people were arrested in mid-March in Kinshasa and Goma in connection with a pro-democracy youth workshop in the capital. Some were released, but human rights group Amnesty International said others are still detained with no access to lawyers or family. No charges have been filed.
At the time of the arrests, the government accused them of conspiring to "destabilize" the country.
Amnesty's Senegal Director, Seydi Gassama, said that accusation is "ridiculous" and "unfounded." U.S. Agency for International Development (USAID) was a sponsor of the event in March, he said, and the government was invited.
He said Africans should no longer accept this kind of oppression as an inevitability. In the case of the DRC, he said it is the freedom of expression and the freedom of assembly that are being challenged. Those are fundamental freedoms, he said, without which there is no democracy. In intimidating and arresting these youth, he said the state wants to snuff out this hope that is emerging.
Senegalese and regional civil society groups said the government of the DRC is trying to squash dissent ahead of the 2016 elections.
Efforts by the ruling party to amend electoral law in January turned deadly as Congolese took to the streets to protest a provision requiring a new census that would have effectively pushed back the vote by several years and allowed President Joseph Kabila to stay in power. He has been in office for 14 years.
Rights groups said at least 40 people were killed during the protests and hundreds detained. The Senate removed the provision.
West African rights group Article 19 said the DRC government sought to cut off information, including blocking Internet phone and SMS services like Viber from January 12 to February 19.
What they were trying to control, said Khady Diallo of Article 19, were spontaneous demonstrations and calls to action going out on social media.
Senegalese and Burkinabe pro-democracy activists were arrested alongside their Congolese counterparts at the workshop in March. They had been invited to participate. They were later released and expelled from the DRC.
Among them was Fadel Barro, a leader of Senegalese group Y'En A Marre. Y'En A Marre is known for leading protests against President Abdoulaye Wade's bid for a third mandate in 2012 that ultimately saw him voted out.
Barro said they have no information about their detained Congolese counterparts, "absolutely nothing," he said, not even how many in all are detained. He said some have been released, while more have been arrested. He said we need to investigate who has disappeared because people are afraid. Some activists are in quasi-hiding, he said, and this is not OK. He said the government cannot stop this movement.
Civil society groups said they are launching a series of actions to campaign for the Congolese activists' release, including filing complaints with international human rights authorities and holding demonstrations outside DRC diplomatic missions around the region at the end of the month.