Radio Okapi | Published on August 01, 2013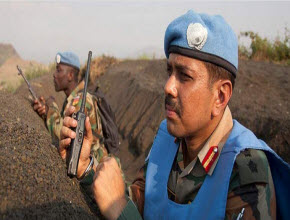 UN peacekeepers in DR Congo
A 48-hour ultimatum given by the UN peacekeeping mission in DR Congo to armed groups around Goma and Sake to disarm or be disarmed expired on Thursday.
The spokesman for the UN mission, Carlos Araujo, said the security zone will be enforced to secure more than one million people, including displaced people living in the area.
"With the end of the 48 hours, MONUSCO in support of the [Congolese army] FARDC will patrol to ensure that unauthorized persons don't carry weapons," Mr. Araujo said.
The commander of MONUSCO peacekeepers, Gen. Alberto Dos Santos Cruz, had said that at the expiration of the ultimatum, anyone who doesn't obey the order will be tracked.
Mr. Araujo said that MONUSCO said the mission was satisfied with "the reaction that the creation of the security zone has caused."
However, he said, it was "too early to make an assessment.  I think it is very important to note that the safety zone is not an offensive military operation and does not target specific armed groups. Its main objective is to ensure the protection of civilians in accordance with MONUSCO's mandate."
"The security area also aims to stabilize the situation around Goma to give a chance to find a political solution to the conflict," he added
In its press release announcing the creation of the security zone, MONUSCO said that since mid-May, Goma and regions north of the city have experienced repeated attacks from the M23 rebels against FARDC positions in an apparent attempt to advance on the provincial capital of North Kivu province and Sake.
During these attacks, the latest of which began on July 14, MONUSCO said the M23 fired indiscriminately, even with heavy weapons, causing casualties among civilians.
In November 2012, the M23 rebels occupied the city of Goma for ten days before withdrawing under international pressure and in return for the opening of negotiations with the government of the DRC.

Source: Radio Okapi