Robert Esaki | Published on August 30, 2013
Enlarge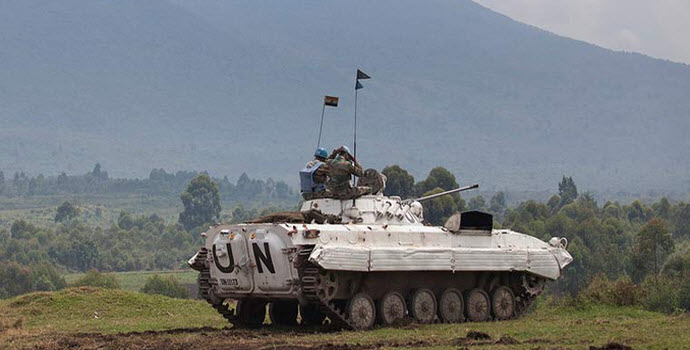 UN peacekeepers on the front lines in Kibati, Democratic Republic of the Congo (DRC) |
Enlarge
The U.N. said on Thursday that the M23 rebels have been firing shells into Rwandan territory, disputing claims by the Rwandan foreign minister, Louise Mushikiwabo, that the Congolese army was to blame.
Reuters reported on Thursday that:
"The (U.N.) Mission reports that it can confirm firing incidents into Rwandan territory originated from M23 positions between 22 and 29 August," U.N. spokesman Farhan Haq said. "The Mission further reports that it has not witnessed any (Congolese army) firing into Rwanda territory during this period."
The Congolese government had warned that the Rwandan government would use the M23 rebels to shell its own territory to try to justify a possible military intervention in eastern Congo, or divert attention from its own actions in support of the rebels. A macabre scenario Rwandan authorities have used in the past.
The sinister ploy also allows Rwandan officials to condemn the Congolese army and the new U.N. intervention brigade, which are fighting against the M23 rebels on the outskirts of Goma, in North Kivu province.
Rwandan officials and diplomats are no longer shying away from openly supporting the M23 rebels.
Reuters reported on Wednesday that Rwanda, a member of the U.N. Security Council, had blocked sanctions proposed by the United States and France against two M23 rebel commanders in the council's sanctions committee on DR Congo.
Rwandan diplomats reportedly had also objected to drafts of a Security Council statement condemning recent M23 shelling of civilian neighborhoods in Goma and attacks on UN peacekeepers.
Nevertheless, in a statement issued on Thursday, the UN Security Council "condemned in the strongest terms the repeated and targeted attacks by the M23 against civilians and the United Nations Organization Stabilization Mission in the Democratic Republic of Congo (MONUSCO), which have led to civilian casualties and loss of life, the death of a peacekeeper and the injury of several others, and damage to a MONUSCO ambulance."