Cafonline.com | Published on February 03, 2016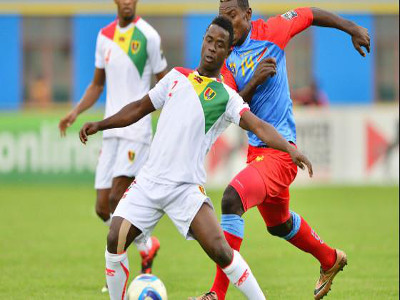 DR Congo Leopards play against Guinea on 2.3.2016 |
DR Congo edged Guinea 5-4 on penalties to reach the final of the African Nations Championship for the second time.
The Congolese, winners of the maiden edition in 2009 in Cote d'Ivoire, were on the brink of victory after TP Mazembe forward Jonathan Bolingi headed them into the lead in extra time, only for Guinea to draw level with virtually the last kick through Ibrahima Sory Sankhon.
The highly favoured Congolese had to sweat for the victory against a determined Guinean side which held them barren in regulation time.
The match got off to an electrifying start with DR Congo taking control from the start. Most of the action was played in the half of the Guineans whilst DR Congo captain Joel Kimwaki thwarted the few rare attacks by the West Africans.
Forward Bolingi was heavily policed by the Guinean backline of Mohamed Youla and Abuobacar Camara, but still managed to lay some good passes to Mechak Elia and Doxa Gikanji.
Gikanji on two occasions struck shots that missed narrowly letting the Guineans off the hook.
The last five minutes of the first half belonged to the 'Syli Nationale' and Sanknon forced a good save from DR Congo goalie Ley Matampi who spilled his thunderbolt from a free-kick just before the break.
The second half was a balanced with both teams starting on a positive footing with possession switching intermittently for either side.
The best chance of the game came the way of the 2009 champions three minutes from time as Gikanji's shot from close range ricocheted off the crossbar with Guinea goalie Abdoul Aziz Keita beaten.
Just as the first half, Guinea were the better side in the closing stages but their attempts at goal were foiled by the Congolese backline forcing the game into extra time.
Twelve minutes into extra time, Bolingi shot the Leopards into the lead by heading home from substitute Guy Lusadisu's cross past a hapless Keita.
The Congolese held on and just on the stroke of time, Guinea replied with the equalizer through Sankhon who riffled home a thunderbolt that left Matampi with no option.
During penalties, Matampi saved the decisive kick of Youla as the Congolese reached the final for the second time. Captain Kimwaki, Michel Mika, Bolingi, Gikanji and Elia scored for the Congolese whilst Sankhon, Aboubacar Camara, Aboubacar Bangoura and Daouda Camara converted for the Guineans.
DR Congo will play the winner of Cote d'Ivoire – Mali in Sunday's final, whilst Guinea squares the loser in the battle for bronze.
Orange Man of the Match
Ley Matampi (DR Congo)