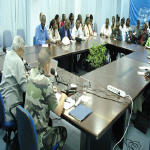 At its weekly press conference of 21 November 2007, MONUC announced that the installation of mobile operational bases in both Ituri and North Kivu contributed actively to the return of displaced persons to their villages.

The joint work of MONUC's Civil Affairs Division and MONUC's Ituri Brigade led to the deployment, since 12 November last, of a mobile team of blue helmets in the zone of Lalo, 20 kilometres north of Fataki in the territory of Djugu.

"The first positive results of this operation are being seen with the return of displaced families and the return of children to school," said MONUC's military spokesman Lieutenant-Colonel Pierre Chareyron.

Nearly 3,000 households that were displaced between February and September 2007, following confrontations between the FARDC and the militia of the FNI, have now returned to their homes.

Also, starting from a base in the zone of Lalo, on 19 November, a MONUC patrol reached Kpanbune, 10 km north of Lalo, which is the village of Major Salim, leader of the dissenting armed group of the Nationalist Integrationist Front (FNI), active in the Lalo zone.

"The objective of this patrol was to meet the local authorities, and to convince them of the need for Salim and his men to surrender their weapons and to join the process of brassage," Lt. Col. Chareyron explained.

Also in Ituri on 18 November, "11 FRPI combatants voluntarily surrendered to MONUC in Boga, 40 km south west of Aveba following a joint operation between MONUC and the FARDC in Aveba which started on 30 October. The militiamen were transferred to Bunia by the FARDC," he added.

In North-Kivu on 17-18 November, 32 combatants, including 21 Mayi-Mayi of the Kasereka group, eight "Nkundist" troops and three FDLR militiamen surrendered at various MONUC bases deployed in the territories of Rutshuru and Masisi.

MONUC has, moreover, declared that its operational base of Bunagana, in the same province, contributed actively to the return of displaced persons in the border zone with Uganda. Many displaced have returned to their villages and traffic on the Bunagana-Burai axis has returned to normal.

MONUC's Mobile Operational Base in Mushake reopened on 17 November, the presence of blue elements allowed freedom of movement on the Goma-Sake-Masisi axis.
"This axis is indeed essential for the supply of goods to the population of Masisi and the provisioning of the town of Goma," Lt. Col. Chareyron explained.

For its part, the UN World Food Programme (WFP), continues its food distribution activities in North-Kivu for more than 28,600 displaced persons in Masisi centre, Buguri and Lushebere. These distributions started on Friday 16 November.

A first batch of 130 tons of food aid has already been distributed to Masisi centre. A convoy of 12 trucks in charge of 130 additional tons of food aid left Goma on Monday 19 November and reached Masisi centers on Tuesday night 20 November. A final convoy of 130 tons should reach Masisi centre by the evening of 21 November, so that all displaced persons identified in Masisi- centre, Buguri and Lushebere will receive food.