Church World Service | Published on February 25, 2008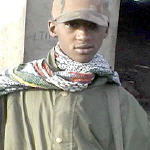 ©VOA

In more than 50 countries around the world children are being kidnapped and forced to become child soldiers. Child soldiers are children younger then eighteen who are directly or indirectly used as combatants, porters, human mine detectors, sex slaves, and/ or for other forms of forced labor. Child soldiers are used by both non-governmental paramilitaries and governments.

Church World Service together with several colleague organizations are working to put an end to this inhumane practice. Church of the Brethren, Mennonite Central Committee, World Vision, Amnesty International and Human Rights Watch are among the groups working together to end the use of child soldiers.

In 2002, the United States adopted the United Nation's Optional Protocol to the Convention on the Rights of the Child on the Involvement of Children in Armed Conflict. The protocol establishes anyone under the age of 18 as a child. It calls for all governments, paramilitaries and other such groups to no longer employ those under age 18 in hostiles. Since its adoption children as young as 7 have been found to be used in armed conflict.

Assistant Majority Leader Senator Richard Durbin introduced the 'Child Soldier Prevention Act of 2007 (S1175)' to move the United States into a stronger place of opposition on the use of children in armed conflict. The bill prohibits U.S. funds for military purposes from being appropriated to countries using child soldiers. Among countries using child soldiers Burundi, Chad, Colombia, Democratic Republic of Congo, Cote d'Ivorie, Sri Lanka, Sudan, and Uganda would be most directly affected by this legislation.

Church World Service is currently working in many of these countries. In Sudan CWS is acting with Action by Churches Together to return people displaced by conflict to their homelands. Many of these returnees are children who have been participants or witnesses to armed conflict. The work CWS does with people in countries using child soldiers is why they are such a strong supportor of the Child Soldier Prevention Act of 2007.

United Nations 7 th Secretary-General Kofi Annan said, "The question of children and armed conflict is an integral part of the United Nations' core responsibilities for the maintenance of international peace and security, for the advancement of human rights and for sustainable human development." Rectifying the evil of children in conflicts is not just an integral part of the United Nations, but a responsibility of all nations.. Senator Durbin has provided the United States with an opportunity to be a leader in this responsibility.