Congo News Agency | Published on August 25, 2011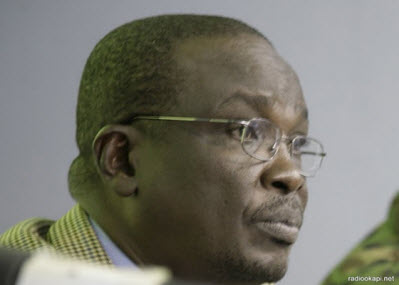 MONUSCO spokesman Madnodje Mounoubai |
Enlarge
A judge in North Kivu province sentenced a UN driver and his accomplice on Wednesday to three years in prison and a US$ 25,000 fine for trying to smuggle minerals to Rwanda.
Julien Mukala, who works for the United Nations mission in DR Congo (MONUSCO), was arrested on Sunday night at the border crossing with Rwanda with 1,200 kilograms of cassiterite in his UN-marked vehicle.
The two suspects were charged with the illegal procession, transport, and misappropriation of minerals.
Julien Mukala was also charged with resisting arrest and his accomplice, Dodo Makuza, with bribery. Their attorneys have said they will appeal the sentences.
MONUSCO said in a press release on Monday that it is "fully cooperating with and supporting the national authorities in the investigation of this incident. The Mission has also launched its own investigation into what appears to be a serious breach of its ethics, rules and regulations."
"Special Representative of the Secretary-General and Head of MONUSCO, Roger Meece, stressed that the illegal exploitation and smuggling of natural resources from the DRC are serious crimes, the prevention of which MONUSCO is tasked with and committed to support."
The Congolese government said in a statement on Monday that "the incident puts into question the compliance of some members of the UN Mission with the relevant resolutions of the United Nations Security Council governing their presence in the DRC and Congolese law."
On Wednesday, MONUSCO spokesman Madnodje Mounoubai defended the UN Mission against allegations that some of its members are involved in the same evils they are tasked to prevent.
He was quoted by UN-sponsored Radio Okapi as saying he "challenges anyone to prove that, apart from this one, there have been other incidents in the past 11 years."
Mr. Mounoubai must either have a short or selective memory, or he simply chose to ignore the facts.
There have been other cases of UN peacekeepers involved in gold smuggling and even accused of providing weapons to rebels in eastern Congo.
In a report that was not made public, the UN's own Office of Internal Oversight Services (OIOS) concluded in 2007 that at least one peacekeeper had been involved in minerals smuggling in eastern Congo.
In a press release regarding a letter it sent to the United Nations under-secretary-general for UN peacekeeping operations, titled "UN: Hold Peacekeepers Accountable for Congo Smuggling," Human Rights Watch wrote in 2007:
"Human Rights Watch first brought information about gold smuggling by peacekeepers to the attention of the United Nations in December 2005, and an investigation was begun. The BBC conducted its own investigation, broadcast on May 23, 2007, which quoted a UN official as saying that there was a desire to "bury the result" for political reasons."
"A report confirming illegal acts by UN peacekeepers is not the end of a process, but surely only the beginning," said Kenneth Roth, executive director of Human Rights Watch. "The UN should follow through on the results of its own investigations."
Instead of issuing ludicrous "challenges", Mr. Mounoubai and MONUSCO should focus on more "transparency" and allow their vehicles to be inspected at border crossings.