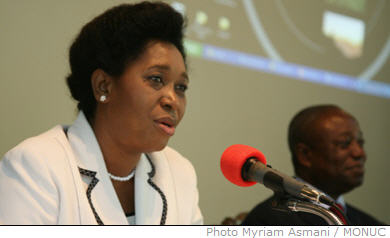 In Kinshasa from 7-12 April 2008, the DRC Ministry of Health will review the annual DRC public health report of 2007, in conjunction with its international partners. During the five day workshop, the state of the DRC public health system will be addressed, challenges will be identified, recommendations will be made and the 2009 health budget will be planned.

DRC Minster for Employment and Social Affairs Marie Ange Lukiana, who was deputising for DRC Health Minister Victor Makwenge, said that the workshop was also "a preparation for decentralisation of the health sector with the validation of transition measures, as well as an evaluation of the priority actions of the government in this sector."

"The current health situation in the country is a concern, charaterised by decaying health infrastructure, the resurgence of diseases once controlled, inadequate services for sexual violence victims and the lack of a functioning health system," explained Minister Lukiana.

Because of this, the Strategy for the Reinforcement of the Health System (SRSS) was adopted in February 2006, with the aim of reorganisaing the health system so that its can offer a quality health system to the population.

In effect, the SRSS is integrated into the DSCRP - the DRC Poverty Reduction Strategy Document - as a health strategy in the overall fight against poverty.

Monday 3 April 2008, which marked the start of the workshop, also marked the 60th International Day of Health, with the theme: "Protecting health in the face of climate change."

"The dangers of climate change to health are very diverse, and with extreme climatic conditions there is a risk of a change in the dynamics of infectious illnesses. We must therefore act now with a multi sector approach in areas such as the reduction of traffic pollution and better land and resource management. The list is not exhaustive," said Minister Lukiana.