BBC News | Published on September 07, 2010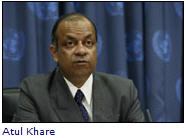 UN peacekeepers have "failed" the victims of mass rape in eastern DR Congo, a senior UN official has said.
Atul Khare told the Security Council that the scale of systematic rape by armed rebels was far worse than feared.
He said that up to 500 women and children were now believed raped in recent weeks - more than double the previously reported figure.
He called for the prosecution of Rwandan and Congolese rebels who are blamed for many of the attacks.
"At the same time a concerted response from the government, from the international community is needed to maintain pressure on the perpetrators of these rapes and to bring them to justice," he told the BBC's World Today programme.
Mr Khare, UN Assistant Secretary-General for Peacekeeping, was sent to DR Congo by UN Secretary General Ban Ki-moon to investigate the attacks in July and August.
He reported to the Security Council that although 242 rapes had earlier been reported in and around Luvungi, a village not far from a UN peacekeepers' camp, 260 more rapes had come to light in the Uvira area and other regions of North and South Kivu.
Mr Khare said he had learned of 74 attacks in a village called Miki, in South Kivu. The victims included 21 children - all girls aged between seven and 15 - and six men.
All the women in another village, Kiluma, may have been systematically raped, he said.
"While the primary responsibility for protection of civilians lies with the state, its national army and police force, clearly, we have also failed," he said.
"Our actions were not adequate, resulting in acceptable brutalisation of the population of the villages in the area. We must do better."
Night patrols
"Graphic examples were provided to me by the victims themselves when I met them in Luvungi and in other parts where I travelled. And I must say that this is why I feel that we have a responsibility, we owe a responsibility to the victims to make their lives better but also we owe them the responsibility of making DRC better," Mr Khare told the BBC.
Mr Khare and the UN's special envoy on sexual violence, Margot Wallstrom, suggested that Rwandan Hutu FDLR rebel chiefs might be among those responsible for organising the rapes in Luvungi.
"I would recommend... for consideration by the (Security) Council, imposition of targeted sanctions on the leaders of the FDLR, both within and outside the country, if a chain of command is proven," Mr Khare said.
He added that UN peacekeepers will make more night patrols and perform more random checks on communities.
Mr Khare said the UN was also looking into ways of providing peacekeepers with mobile phones by installing a high frequency radio in Luvungi.
The BBC's Thomas Hubert, in Goma, said the Congolese government was pleased to see the UN shoulder some of the responsibility for failing to stop human rights abuses, but disappointed that there was no stronger commitment to tackle rebel groups.
Government spokesman Lamert Mende called on the UN to support its national army more directly against the militias.
He urged peacekeepers to "do the dirty work" and "move to the front".
The latest mass rapes - during July and August - were first reported by the International Medical Corps, which treated many of the victims.
Mr Ban sent his envoys to the country to learn why UN peacekeepers had apparently been unaware of the attacks.
DR Congo has a shocking reputation for sexual violence, and rape is commonly used as a weapon of war.
The UN says at least 8,300 rapes were reported in 2009 and it is believed that many more attacks go unreported.