chrissmith.house.gov | Published on March 08, 2011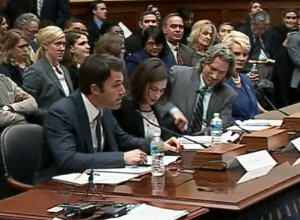 The tragedy and hopes for peace in the Congo was the focus of a hearing held today by U.S. Rep. Chris Smith (NJ-04), Chairman of the House Africa, Global Health and Human Rights Subcommittee.
The U.S. State Department, U.S. Agency for International Development (USAID) and human rights groups, including actor-writer-director, Ben Affleck, founder of the Eastern Congo Initiative (ECI) were witnesses at the the hearing, entitled "The Democratic Republic of the Congo: Securing Peace in the Midst of Tragedy."
"The people of the DRC have endured on-going violence and bloodshed for decades. The country has been the scene of one of the longest and deadliest man-made humanitarian crises in the world, characterized by two major civil wars involving seven neighboring countries; multiple cross-border conflicts; fighting by and among foreign proxies, militia groups and rebel movements; illicit activities including the illegal exploitation of mineral resources; an absence of governance; human rights atrocities directed against civilians by all parties, including a predatory Congolese military; and an unreliable United Nations peacekeeping force," Smith said. "I am grateful to Ben Affleck for agreeing to be here to share his perspective and that of the Eastern Congo Initiative that he founded. He is to be highly commended for contributing his time, finances and fame to bring the world's attention to the needs of a people who have suffered too much for too long. I would also like to recognize Ms. Cindy McCain who is with us today. Ms. McCain is a Founding Member of and investor in the Eastern Congo Initiative, and shares Mr. Affleck's dedication to ending the suffering in this region." Click here to read Smith's statement.
Affleck testified about the work of the ECI, including his travel to the DRC.
"Having just returned from the Congo last month I can assure you that Congo is on the brink," said Affleck. "Since my first visit to Congo in 2006, I have witnessed efforts to improve governance, promote economic growth, and reduce conflict. Unfortunately, despite some positive movement, the record over the last five years is not promising. Congo is moving in a negative direction and its fragile democratic progress is at risk. If this does not change, the country risks heading into another, deeper spiral of violence which could lead to more fighting and suffering, and could risk destabilizing surrounding Central African countries like Rwanda—a country that is on its own precarious road to stability." Click here to read Affleck's statement.
Witnesses who gave testimony include: Donald Y. Yamamoto, Principal Deputy Assistant Secretary, Bureau of African Affairs, U.S. State Dept.; Rajakumari Jandhyala, Deputy Assistant Administrator, Bureau for Africa, USAID; Francisca Vigaud-Walsh, Sexual and Gender-Based Violence Advisor at Catholic Relief Services; and, John Prendergast of The Enough Project.