BBC News | Published on October 26, 2012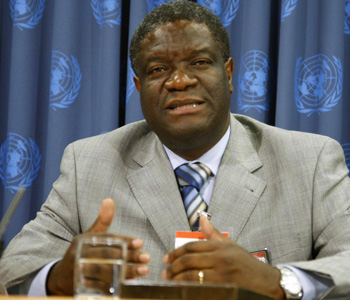 Unknown gunmen have tried to kill a Congolese doctor widely praised for his work helping rape victims, he has told the BBC.
When asked whether he had been targeted because of his work, Denis Mukwege noted that the attackers had not asked for any money.
One of his security guards was shot dead in the attack in the Democratic Republic of Congo town of Bukavu.
Dr Mukwege has won several awards for his work.
Human rights campaigners have accused several armed groups operating in eastern DR Congo of using rape as a weapon of war.
Last week, one hospital in the region said it had recorded 5,000 cases of rape this year.
In 2010, UN special representative on sexual violence in conflict Margot Wallstrom said the country was the "rape capital of the world".
Four armed men broke into Dr Mukwege's home and waited for him to return home, says PMU, a Swedish religious organisation which works with the Panzi hospital founded by the doctor.
They then shot at and narrowly missed the gynaecologist before fleeing in his car, which they soon abandoned.
"They wanted to kill me," Dr Mukwege told BBC Afrique, adding that his work had angered some people in the region.
"It upsets them when we denounce their crimes," he said.
Numerous armed groups have been operating in eastern DR Congo for almost 20 years.
The latest unrest broke out in April and has forced some 500,000 people from their homes.