VOA News | Published on September 16, 2011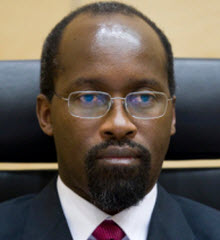 Callixte Mbarushimana
A former Rwandan rebel leader has appeared before the International Criminal Court facing charges of war crimes and crimes against humanity in the Democratic Republic of Congo.
Callixte Mbarushimana sat before the ICC Friday in a pre-trial hearing facing 13 charges such as rape, murder and torture of Congolese citizens.
A prosecutor, Fatou Bensouda, told The Hague court that Mbarushimana represented the "respectable public face" of the FDLR, a Rwandan Hutu rebel group that attacked civilians in Congo's North and South Kivu provinces in 2009. The exiled group is based in eastern Congo.
Prosecutors do not accuse Mbarushimana of knowing about each crime committed in the Kivus, but they say he helped plot the campaign to pressure Rwanda to deal with his exiled rebel group.
Bensouda said Mbarushimana was the "lynchpin," the man who could transform crimes in the Kivus into political leverage for the FDLR in Rwanda.
The hearing will determine whether Mbarushimana's case goes to trial.
The FDLR was established by ethnic Hutus who took part in the 1994 Rwandan genocide of Tutsis and fled to Congo after the killing spree was stopped.
French authorities arrested Mbarushimana in Paris last year on an ICC warrant. He had received refugee status in France in 2003.