UN News | Published on January 02, 2009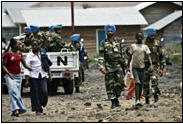 The United Nations peacekeeping mission in the Democratic Republic of the Congo (DRC) today called on the main rebel group in the east of the vast country to resume talks with the Government next week in a bid to end fighting that has forced over 250,000 from their homes since August.
The mission, known by its French acronym MONUC, said the mainly Tutsi rebel group known as the National Congress in Defense of the People (CNDP) would have an opportunity at the talks in Nairobi, Kenya, on 7 January to raise with the Government all issues of interest to it.
The Nairobi talks, guided by Secretary-General Ban Ki-moon's Special Envoy Olusegun Obasanjo and African Union (AU) representative Benjamin Mkapa, began last month with the goal of ending the conflict, which has displaced more than 1 million people over the past few years, in eastern DRC.
MONUC rejected the CNDP's accusations questioning its commitment to stabilizing the situation and protecting the local population from the sufferings of war.
"Contrary to CNDP accusations, MONUC is tirelessly working to fulfil its mandate as a peacekeeping mission to ensure the protection of civilians, reinforce the DRC's legitimate institutions and foster national reconciliation and internal political dialogue," it said in a statement.
The mission called on the CNDP and all parties to refrain from any act that could provoke a resumption of hostilities. The region has also witnessed fighting among the mainly Hutu Democratic Forces for the Liberation of Rwanda (FDLR), the Mai Mai and other militant groups.
Meanwhile, in Kasai Occidental province in central DRC, the UN World Health Organization (WHO) is helping to contain an ongoing outbreak of deadly Ebola haemorrhagic fever, deploying five vehicles and sending in equipment and medical supplies. The UN Children's Fund (UNICEF), MONUC and the UN World Food Programme (WFP) are also joining in efforts to combat the outbreak.