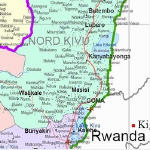 Thousands of Rwandan troops have started to leave Democratic Republic of Congo five weeks after they crossed the border to attack Hutu rebels.
A ceremony has been held in the main eastern Congolese city of Goma, to mark their withdrawal.
Rwanda's foreign minister says the joint operation "seriously weakened" the FDLR rebels but a BBC correspondent says civilians paid a heavy price.
The rebel presence in DR Congo lies behind years of conflict in the region.
Some of the FDLR leaders are accused of taking part in the 1994 Rwandan genocide, before they fled to DR Congo.
Rwanda has twice invaded its larger neighbour, saying it must take action against the mainly Hutu forces.
But in January, the two countries agreed to take joint action against the FDLR.
The Rwandan forces also arrested Congolese Tutsi rebel leader Laurent Nkunda - a bitter enemy of the Congolese authorities.
Military trucks followed by some 1,500 Rwandan troops on foot crossed the border just before 1200 GMT, reports the AFP news agency.
More than 3,000 Rwandans entered DR Congo in January. Officials say they will all leave by the end of this week.
"You can't say the problem has been resolved. But they [FDLR] have been seriously weakened; their strength considerably reduced," Rwandan Foreign Minister Rosemary Museminali told state radio on Wednesday, reports the AFP news agency.
"If the Congolese troops continue the operation, we don't doubt they will achieve their goal" of annihilating the FDLR, she said.
Retaliation
Lt Col John Numbi, in charge of the joint operation, said nearly 90 Hutu rebels had been killed since the sweep began - but the BBC East Africa correspondent Karen Allen says civilians have paid a heavy price.
Some 32 people were killed by FDLR militias - apparently in retaliation for the joint military push.
The UN refugee agency has warned of a "new wave of displacement" after some 3,000 people fled their villages in the Masisi area of North Kivu - fearing more FDLR attacks.
A UNHCR spokesman on Tuesday told the BBC that the Hutu militias have returned to some of the bases which they had been forced from by the joint operation.
Gunmen are killing civilians, burning houses and raping women in North Kivu province, UNHCR spokesman David Ntengwe told the BBC.
On-and-off fighting involving the FDLR, the army and other militias has forced more than one million people in North Kivu to flee their homes since late 2006.