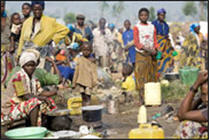 Rebel attacks in recent weeks have forced more than 100,000 people from their homes in the volatile eastern Democratic Republic of the Congo (DRC), according to the United Nations High Commissioner for Refugees (UNHCR).
This brings the total number of internally displaced persons (IDPs) in eastern DRC to over 1.4 million, mostly in North Kivu province, UNHCR spokesperson Ron Redmond said.
The raids by the so-called Democratic Forces for the Liberation of Rwanda (FDLR) in east of Goma, North Kivu's capital, have ?left a trail of death and destruction and caused recurrent displacement,? he noted.
The group is stepped up its attacks against civilians in North Kivu after the DRC and Rwanda ended their joint military offensive against it in January.
Late last week, the FDLR raided the village of Luofu, killing seven people, five of whom were children, and burning some 250 homes, according to authorities. This caused panic among the area's residents, who fled to the bush or the nearby town of Kirumba, which has reportedly been surrounded by the rebels who are threatening to overrun it.
The crumbling security situation, exacerbated by the FDLR tactic of attacking commercial vehicles on main roads, is preventing humanitarian agencies from distributing vital aid, Mr. Redmond told reporters in Geneva yesterday.
IDPs in North Kivu have typically been uprooted more than once, with families often being separated, UNHCR said.
Currently, the agency runs 11 camps and monitors the human right situation of the uprooted in eastern DRC.