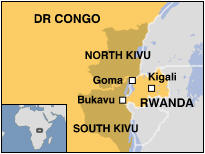 The number of Rwandans laying down their arms and leaving militias that terrorize civilians in the eastern Democratic Republic of the Congo (DRC) has multiplied four-fold on a monthly basis compared to last year, the United Nations reported today.
Rwandan rebels are now surrendering at a rate of 146 fighters a month, according to the UN mission in the DRC (MONUC), with more than 660 heeding the mission's call to return to civilian life since the start of this year, along with 1000 of their dependents.
This past weekend, another 10 members of the Democratic Forces for the Liberation of Rwanda (FDLR) surrendered to a joint UN-Congolese army patrol near Goma. The rebels brought with them 31 of their dependents along with a sizable arsenal of weapons, MONUC said.
The mission said the new additions to its disarmament program are now being processed for repatriation to Rwanda.
It called on remaining FDLR fighters to follow suit, offering them and their families a chance for a decent future and stressing that life in the bush will only become more and more difficult from now on.
The voluntary disarmament, demobilization, repatriation, reintegration and rehabilitation (DDRRR) programme for the ex-militia is managed by MONUC, while civilians are repatriated by the UN High Commission for Refugees (UNHCR).
The FDLR and other Rwandan militias have been a key factor in the resurgence of violence in North Kivu province, where over 100,000 civilians have been uprooted by fighting in the past two months, in addition to the many hundreds of thousands previously displaced.
The ethnic Hutu rebels, who recently carried out a wave of retaliatory attacks against civilians after being targeted by a joint Congolese and Rwandan military offensive, have been operating in eastern DRC since the 1994 genocide of Tutsis and moderate Hutus in Rwanda.