UN News | Published on July 24, 2009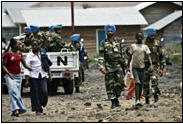 A fact-finding team has been dispatched by the United Nations peacekeeping mission in the Democratic Republic of the Congo (DRC) to investigate rumours of sexual misconduct surrounding some blue helmets stationed in the country's far east.
General Babacar Gaye, Force Commander of the mission, known as MONUC, voiced hope that the investigation will shed light on persistent allegations of sexual exploitation and abuse leveled against peacekeepers.
While cases of sexual exploitation had been investigated by the military police last year, he said he is concerned that other cases might have gone undetected, especially in more remote locations.
"A very small number of peacekeepers have abused the trust of the Congolese people in the past, and the overwhelming majority who serve with honour in this Mission resent the damage that a few individuals can do to the credibility of peacekeeping," said Alan Doss, the Secretary-General's Special Representative.
He also underscored the UN's "zero tolerance" for "any behaviour that disrespects women and girls and the communities in which they live."
The fact-finding mission will visit operating bases of MONUC, which is one of the UN's largest peacekeeping operations with over 19,000 personnel, and camps housing tens of thousands of internally displaced persons (IDPs).
It is expected to report its findings by the end of this month, with any evidence brought to light to be formally investigated by the world body's investigative arm.
Earlier this year, a report found that the number of misconduct allegations against MONUC forces is on the decline.
Allegations are categorized according to their severity, with Category I offences including behaviour such as sexual exploitation and abuse, serious fraud and abuse of authority, while Category II offences pertain to personnel matters, contract disputes, misuse of equipment and small theft, among others.
According to the report, Category I allegations dropped from 66 in 2007 to 56 last year, and within these instances, the number of sexual abuse and exploitation allegations fell from 48 in 2007 to 38 in 2008.
The number of Category II allegations is also on the wane, with 202 allegations received last year, as opposed to 294 the year before. In 2008, 15 of the allegations pertaining to reported sexual abuse and exploitation mainly involved breaches of curfew. MONUC peacekeepers are prohibited from visiting bars frequented by prostitutes or areas that are off-limits for security reasons.