IRIN | Published on October 06, 2009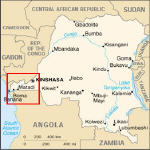 Thousands of Congolese citizens are being deported from Angola to the Democratic Republic of Congo (DRC) under alarming circumstances, say humanitarian workers.

"The deportees have nothing with them, everything was taken; there are cases of violence, rape and sexual abuse," said Severine Flores, spokeswoman for the UN Office for the Coordination of Humanitarian Affairs (OCHA).

Many of the deportees travelled to the DRC town of Boma, in Bas-Congo province.

"For the moment, most of the deportees are being accommodated by other families and are spread out in the town," said Flores, adding that reliable statistics of their numbers were not available. However, she added that according to local NGOs, almost 18,000 people had been deported since July. Thousands of Congolese in Angola are deported every year.

According to the UN-run Radio Okapi, close to 25,000 other Congolese had fled mistreatment in Angola since the start of the year. The Congolese Minister for Social Affairs said an official mission has been set up to investigate.

Congolese citizens who had been living in the Angolan town of Soyo and in the Cabinda enclave were among those deported. Some 5,000 reportedly crossed the border last weekend. "They were chased by all kinds of security forces: soldiers, police, even immigration officers, who took away everything the Congolese were carrying," Jean-Pierre Larandja, an Angolan in Cabinda, told IRIN by telephone.

"Things are bad," one of the deportees told Radio Okapi. "They are attacking us Congolese. Some people are seriously wounded; people have been killed by machete, with guns. As soon as they see you have a bundle on your head they hit you.

"As I talk to you now, my foot is injured. All the Congolese who live there want to leave," he said, adding that ordinary Angolans, as well as security forces, had joined in the attacks, "breaking into our homes, making off with our goods and beating us".

In reaction, DRC government spokesman Lambert Mende said the Congolese immigration service had in the past week begun to deport Angolans from DRC.

"We cannot accept that the Congolese are deported without dignity even if they are living there illegally. They are thoroughly searched, sometimes even [strip-searched]. Some people have had their stomach pumped," said Mende. Many Congolese work in diamond mines in Angola.