Congo News Agency | Published on December 23, 2011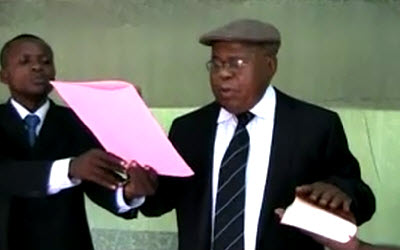 Etienne Tshisekedi inaugurates himself president of DR Congo on Dec. 23,2011.
Etienne Tshisekedi inaugurated himself as the president of the Democratic Republic of Congo on Friday. The ceremony was staged at his home after police prevented him and his supporters from holding the event at Stade des Martyrs.
"I, Etienne Tshisekedi wa Mulumba, having been democratically elected president of the Democratic Republic of Congo, solemnly swear before God and the nation to uphold and respect the Constitution and laws of the Republic and to defend its national unity and territorial integrity, to devote all my strength to the promotion of the common good and peace and to loyally fulfill, as a servant of the people, the high functions entrusted in me," Mr. Tshisekedi said with his left hand on a Bible in front of dozens of supporters at his home in Limete, Kinshasa.
Mr. Tshisekedi said on Sunday that he considered himself the president elected by the Congolese people in the Nov. 28 presidential election and planned to take the oath of office at Stade des Martyrs in Kinshasa on Friday.
Mr. Tshisekedi was introduced at the ceremony by his spokesman, Albert Moleka, who said that Mr. Tshisekedi had won the presidential election with 53 percent of the votes.
The Independent National Electoral Commission announced on Dec. 9 that President Joseph Kabila had won reelection with 49 percent while Mr. Tshisekedi received 32 percent of the votes. The results were upheld by the Supreme Court on Dec. 16 and Mr. Kabila was sworn in on Friday, Dec. 20.
Police had cornered off the roads leading to Mr. Tshisekedi's house in Limete. Stade des Martyrs and its surroundings were guarded by heavily armed security forces.  Police dispersed dozens of UDPS militants trying to get to the stadium. Some protesters were arrested, but there were no reports of injuries.
Kinshasa remained calm overall as most of its 10 million residents went about their business two days before Christmas and were not affected by the turmoil in Limete and around Stade des Martyrs.