Committee of the Wise: Disputes must be discussed according to the law in order and peace

By Monuc | Published on August 2, 2006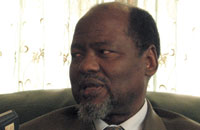 In the event that certain candidates dispute the integrity of the poll of July 30 2006, Joachim Chissano, the president of the International Committee of Wise, invites them to do it according to the legal framework, and remains optimistic in relation to the creation of a consensus on the acceptance of the results.

INTERVIEW

The presidential election candidates are already challenging the validity of the poll. What is your reaction?


We must try to create a climate of confidence between the various parties in order to reach a consensus.


There are electoral authorities which will react to these disputes. Our Committee awaits their reaction. We will decide then if we must intervene. For the time being, the observers are placed better to comment on this than us. We can however deliver our opinion on the way in which these disputes must be discussed: which must be done according to the law, in order and peace.

After your first meetings with the candidates, do you think that the moral authority of the Committee of the Wise will be enough to influence their behaviour and to ensure a peaceful end to the process?

Of this we are sure. All those who we contacted expressed their joy at seeing us here and they think that this Committee will play an essential part in the election process. We have the feeling that our authority from this moment on will be felt.

Will diplomatic pressure right now will be necessary to accompany your efforts at mediation?

I have never supported such pressure. It is important to persuade without threatening. All the actors must know that we are on their sides to help them. We must try to create a climate of confidence between the various parties in order to reach a consensus.

On the contrary, threats and pressure risk dividing the nation more. Diplomatic pressure is not the solution. They risk solidifying the positions of certain actors, by the fear of appearing to "pander to outsiders", and who would otherwise have been ready to accept concessions.

Admittedly, in extreme cases it becomes necessary to exert pressure, but we are not yet in this situation in the Democratic Republic of Congo. I do not believe that pressure will be necessary.

--------------------------------

* The Committee was formed at the instigation of the five Institutions who support the Transition in the DRC – the Independent Electoral Commission, the High Authority of the Media, the Truth and Reconciliation Commission, the National Observatory of the Human Rights and Commission of Ethics and the Fight against Corruption -, with the support of the President of the Commission of the African Union and the Secretary General of the United Nations.