UN News | Published on December 16, 2009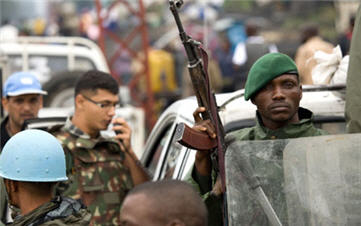 United Nations peacekeepers in the Democratic Republic of the Congo (DRC) and the national army adopted new directives today for operations against rebels with the protection of civilians as the core focus following reports of massacres and other serious human rights violations by Congolese soldiers.
Announcing the new directives to the Security Council, Secretary-General Ban Ki-moon's Special Representative Alan Doss highlighted the dilemma faced by the UN Mission in DRC, known as MONUC, which is mandated to "give the highest priority" to protecting civilians, while at the same time working with the national army, which includes elements responsible for human rights abuses, in fighting rebels in the east of the vast country.
"There is no easy answer to this dilemma and we are looking towards the Council for clear guidance in this respect," he said, presenting Mr. Ban's latest report on the DRC, which calls for a six-month extension of MONUC, one of the UN's largest operations with nearly 20,000 uniformed personnel, until 30 June.
Asked at a news conference on Monday about reports that 1,400 civilians had been killed by Congolese or Rwandan troops and by rebels as a result of the so-called Kimia II military operations launched with MONUC's support, Mr. Ban said the mission had suspended logistical or other support for units of the Congolese National Armed Forces (FARDC) when there were sufficient grounds to believe their operations would violate human rights.
Underscoring the dilemma, an independent UN human rights expert today named two FARDC commanders, Innocent Zimurinda and Bosco Ntaganda, who remain in the their posts, as facing serious accusations of human rights violations.
"It is a contradiction of basic UN principles for UN peacekeepers to cooperate with a military operation led by individuals who stand accused of war crimes and grave human rights abuses," UN Special Rapporteur on extrajudicial executions Philip Alston said in a news release.
Mr. Alston, who reports to the UN Human Rights Council in Geneva, added that while action against the mainly Rwandan Hutu rebel group FDLR in eastern DRC was necessary, the manner in which Kimia II it has been carried out has been "absolutely catastrophic" for civilians.
"There has been insufficient planning for civilian protection, and civilians have been raped to death and massacred in revenge attacks by the rebels. Shockingly, civilians have also been gang-raped and hacked or shot to death by the Congolese army, the very force that is supposed to protect them," he stressed.
It is to address these problems that Mr. Doss announced the new directives today, with Kimia II ending by 31 December. "The FARDC and MONUC will now concentrate on holding ground recovered from the FDLR and preventing attacks on civilians in areas of vulnerability, while undertaking focused interventions against any centres of command and control where the FDLR may have regrouped," he said. "Protection of civilians has to be at the core of these operations."
He later told reporters that it was important to have the FARDC stabilized in some areas "with our support and our presence. So I would expect there would be fewer operations conducted, but we've still kept open the possibility of targeted operations if we see the FDLR regrouping and attempting to strike or recover or conduct reprisals."
MONUC aided Kimia II with helicopter lifts, medical evacuation, fuel and rations, as well as firepower support to FARDC to keep FDLR from reclaiming areas previously under its control.
He noted that human rights violations were rife in North and South Kivu provinces. "Sexual violence continues unchecked. Armed groups together with uncontrolled elements of the FARDC are responsible for most of these violations," he said.
Kimia II's goal of ending FDLR's control of population centres and weakening its ability to exploit the country's natural resources such as gold and cassiterite "has been largely achieved, although we do recognize there have been very serious humanitarian consequences," he added.
He reiterated the need to dismantle the international and expatriate networks behind the minerals and arms smuggling in the eastern provinces, which have continued to seethe with rebel and ethnic violence after much of the rest of the once war-torn country has returned to relative calm.
"At the same time, the Congolese Government must ensure the progressive demilitarization of the mining areas and prevent its own armed forces from exploiting these resources," he warned.
"Unfortunately, with the recent round of integration and demobilization of Congolese armed groups (whose members were enlisted in the army after reaching accords with the Government), the problem of discipline in the FARDC has worsened."
Mr. Doss noted that MONUC was implementing, together with other UN agencies, a multi-faceted protection strategy for tens of thousands of civilians "under the threat of imminent danger," with 58 forward bases. "I can assure that local people greatly appreciate our presence and the protection that MONUC provides," he said.
Over 1.25 million people have been uprooted or re-displaced by violence in North and South Kivu provinces, and the volatile security situation has hampered aid agencies' efforts to provide assistance.