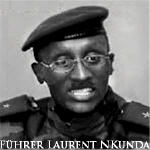 The minister of communication and media for the Democratic Republic of Congo (DR Congo), Lambert Mende Omalanga, indicated on Sunday that the problem of transferring the ex-rebel chief of the National Congress for the Defense of the People (CNDP) Laurent Nkunda will be solved in 2010.
Mende, the spokesman for the Congolese government, was reacting to Nkunda's comments through the media at a press conference.
He noted that the transfer of Nkunda does not depend on his own willingness, but on that of Rwanda, reiterating that the latter is going to solve the problem.
DR Congo welcomed the arrest of Nkunda on Jan. 22, 2009 by Rwanda, and has since expressed the desire to have him extradited.
In his recent comments, Nkunda told media that he had agreed to be transferred to DR Congo and that had confidence in the Congolese justice system.
Claiming to be protecting "the minority Congolese Tutsi," Nkunda together with his men had succeeded in October 2008 to rout the governmental army in the eastern province of North Kivu in advances to Goma, the provincial capital.
With the rapprochement of relations, DR Congo and Rwanda launched a joint operation on Jan. 20, 2009 against the CNDP and the Rwandan Hutu rebels, resulting in the arrest of Nkunda two days later in Rwanda.
First placed under house arrest at Gisenyi, a Rwandese border town with DR Congo, the ex-general was later transferred to Kigali.