Xinhua | Published on April 12, 2010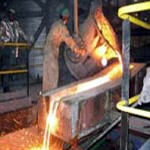 The government of the Democratic Republic of Congo (DR Congo) has banned exportation of concentrated mineral products from Katanga province, forcing the mining operators to build metallurgic factories to produce raw copper.
Congolese Minister of Mines Martin Kabwelulu said on Sunday the measure should have come into force three years ago, but its implementation was delayed.
"There has been a grace period since 2007. We had asked the mineral operators to construct metallurgic factories to add value to our minerals. And those who did not do this and are still exporting the concentrated content, we are forced to tell them to stop. It is only those who are producing metallic copper and metallic cobalt who can export their products," he explained.
The minister acknowledged the fact that this decision might lead to reduction in revenues, but expected it to increase them later because the collection of taxes from minerals will be done on the actual quantity of copper.
"I know that there are a number of operators who are unhappy. The revenues might drop. That is certain. But three or four months from now the revenues will increase because the payment of mineral taxes, when we export crude metal is 100 percent while when we export the concentrated one, the operator just pays for the quantity of metal contained in the concentrated product," he pointed out.