Congo News Agency | Published on November 15, 2011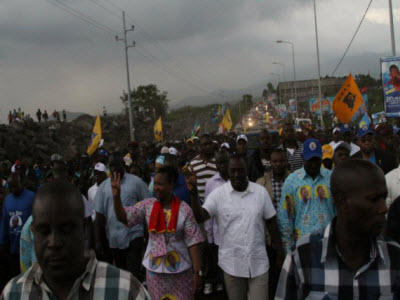 President Kabila campaigns in Goma |
Enlarge
The two leading candidates in the upcoming presidential election crossed paths in eastern Congo on Monday. Both President Joseph Kabila and Etienne Tshisekedi arrived in Goma, North Kivu Province, on the same day to hold campaign events.
Amid rising tensions as Election Day looms closer, there was a heavy police presence at the airport when Mr. Tshisekedi landed at 12:30pm.
Mr. Tshisekedi brought a message or peace to the residents of Goma, still recovering from the violence that marred eastern Congo for years.  The leader of the UDPS promised, if elected, to provide agricultural credits to farmers to revive the once vibrant sector in the province.
President Kabila promised to build new roads in the province and a new university in Goma if reelected. He said he "owed a debt" to the residents of the province, who gave him with 96% of their votes in the second round of the 2006 presidential elections.
Mr. Tshisekedi was coming from Bunia, Orientale Province, where he held campaign events on Sunday after arriving in Kisangani on Thursday.
President Kabila arrived from Kolwezi, Katanga Province, the last stop on a campaign tour of the province that also took him to Lubumbashi.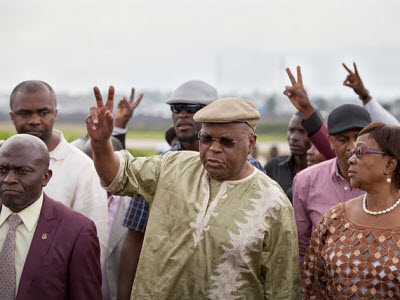 Etienne Tshisekedi arrives in Goma | Enlarge