Congo News Agency | Published on May 05, 2010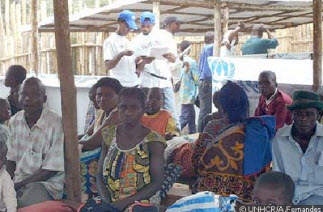 Refugees from Dongo
The leader of the Enyele rebels who led a surprise attack on Mbandaka in April has been arrested. Mr. Udjani was handed over to the police on Wednesday by residents of his stronghold of Dongo, where he had returned to look for new recruits.
Announcing his arrest, Lambert Mende, the Information Minister and government spokesman, said that Mr. Udjuni was being transferred to Mbandaka before being brought to Kinshasa to "account for his actions."
"We very warmly welcome the contribution of the residents of Dongo to the efforts for peace undertaken by the government, the FARDC, and all those involved in law enforcement. We call upon all other compatriots to follow this example and help the government to bring peace to the country", Mr. Mende said.
Dozens of Enyele rebels launched an attack on Mbandaka, the main city in Equateur province, on Easter Sunday, briefly overtaking the governor's residence and the airport. The Congolese army regained control over the town the same day after a counterattack.
What began in October 2009 as a conflict over access to fishing ponds between people from the Enyele and Monzala villages has escalated into a rebellion in the once relatively calm Equateur province. More than 100 civilians, police officers, and soldiers have died in the violence. More than 200,000 people have been forced into displacement.

On the web: Congo News Agency