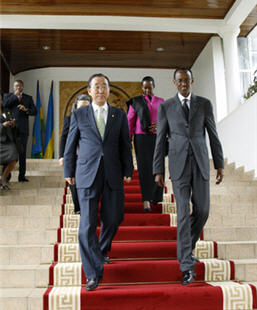 Ban Ki-moon with Paul Kagame in Rwanda in 2009
Secretary-General Ban Ki-moon arrived today in Kigali, where he plans to meet with Rwandan leaders to discuss the soon-to-be-released United Nations report on serious human rights violations committed in the Democratic Republic of the Congo (DRC) between 1993 and 2003.
The report, compiled by the Office of the UN High Commissioner for Human Rights (OHCHR) and scheduled to be made public on 1 October, describes a total of more than 600 incidents in the DRC during the 10-year period in which tens of thousands of people were killed.
Mr. Ban, who arrived in the Rwandan capital after official travels in Europe, will meet Foreign Minister Louise Mushikiwabo later today and President Paul Kagame tomorrow.
The Secretary-General decided to visit Kigali "to speak directly with the Rwandan President and other Government officials about their concern" regarding the report resulting from the so-called mapping exercise conducted by OHCHR, according to information provided by Mr. Ban's spokesperson.
The report, which covers not only the war-torn east but the entire territory of the DRC, has the overarching objective of helping the Congolese Government to establish transitional judicial systems and fight against impunity.
During the two-day visit, Mr. Ban is accompanied by Roger Meece, his Special Representative for the DRC, Alain Le Roy, the Under-Secretary-General for Peacekeeping Operations, and Ivan Simonovic, the Assistant Secretary-General for Human Rights.