Radio Okapi | Published on April 04, 2011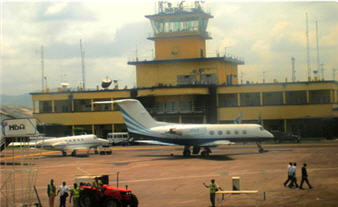 N'djili airport (file photo)
A UN plane crashed on Monday at Kinshasa N'djili airport. The plane, originating from Kisangani in the north-eastern Orientale province, crashed as it was trying to land during torrential rain in Kinshasa.
According to preliminary reports, the plane was carrying 29 passengers, including United Nations Mission Stabilization Mission in the Democratic Republic of Congo (MONUSCO) staff members and peacekeepers, and three crew members. At least 26 people are reported to have died.
"Emergency medical teams were dispatched immediately to the scene. An emergency team was established to gather further information to be announced later, MONUSCO said in a statement released Monday evening.
People who were at the airport, including family members of passengers, then ran to MONUSCO's terminal, as ambulances were busy removing bodies from the wreckage, a source at the airport said.

On the web: Congo News Agency | From Radio Okapi article