VOA News | Published on July 21, 2012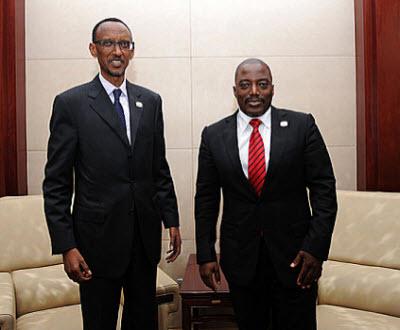 Presidents Paul Kagame and Joseph Kabila met in Addis-Ababa on July 15, 2012 |
Enlarge
The United States has cut its military aid to Rwanda, citing concerns that the government in Kigali is supporting rebels in neighboring Democratic Republic of Congo.
The U.S. State Department said Saturday it had evidence that Rwanda is helping Congolese rebel groups, including M23. It said it will withhold $200,000 of aid pledged to help a military training agency. The Rwandan government has repeatedly denied helping the rebels.
Washington's move comes a week after the presidents of Rwanda and the DRC agreed to the deployment of an international force to fight the rebellion in eastern Congo and to patrol their border.
Congolese troops have tried for years, with little success, to subdue rebel groups in the volatile and mineral-rich eastern provinces.
M23 is comprised of former soldiers believed to be loyal to Bosco Ntaganda, a warlord wanted by the International Criminal Court for alleged war crimes.